Here at bill Hansen catering, we strive to always meet the needs of our clients when it comes to delicious cuisine and extraordinary events. That's why we're pleased to announce our partnership with kosher table catering.
Working together as a team, our goal is to bring you impeccable taste, continued high standards of service, and attention to detail with our absolutely exquisite kosher offerings.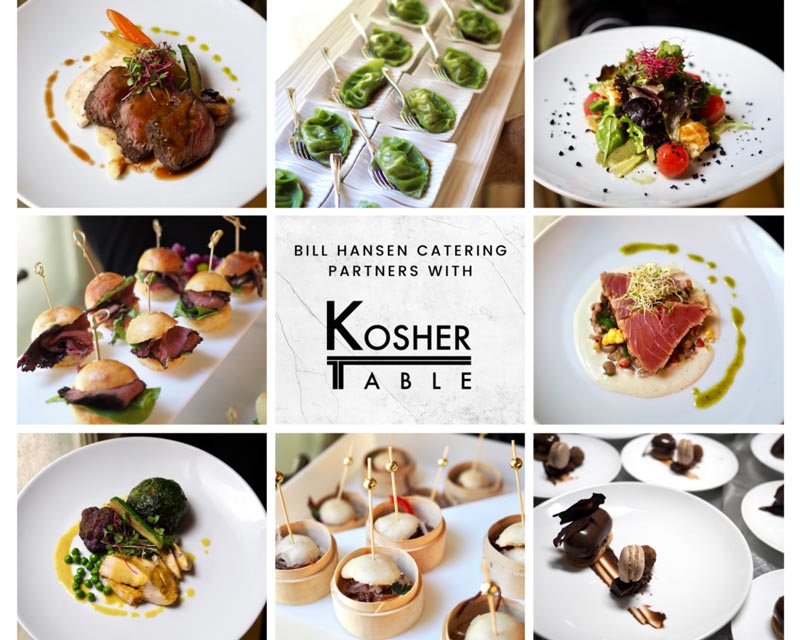 The passed and plated options above are just a select few from our diverse kosher menu, listed in clockwise order below:
Rosemary Rubbed Ribeye Steak: Truffle Parsnip & Celeriac Spread, Black Garlic, Roasted Baby Vegetables, Pearl Onions, Bone Marrow Cabernet Reduction
Vegetable Gyozas with Soy Ginger Dipping Sauce
Heirloom Cherry Tomato Salad: Petit Greens, Basil Spread, Torched Brioche, Black Olive Soil, Basil Vinaigrette
Mexican Tuna Tataki: Adobo Marinated Grilled Ahi Tuna, Black Eye Bean Salsa, Mexican Aioli, Roasted Corn, Cilantro Oil, Micros
Chocolate Textures, Valrhona Chocolate Mousse, Halva Chocolate Macaron, Caramel Sea Salt Chocolate Truffle & Dark Praline
Pulled Brisket Bao Buns with Pickled Vegetables
Sous Vide Chicken Breast, Swiss Chard Turmeric Rice, Braised Greens, Roasted Purple Cauliflower Florets, Fresh Peas, Curried Beurre Blanc, & Coriander Oil
Homemade Brioche with Warm Navel Pastrami & Horseradish Aioli
INTERESTED IN KOSHER CATERING FOR YOUR NEXT EVENT?
REACH OUT TO US FOR MORE DETAILS ON A CUSTOMIZED KOSHER MENU!