Vegan Menu Options Your Guests Will Love
Vegans understand the defeat when a corporate event or special events catering menu does not include satisfying meal options that meet their dietary restrictions.
Event planners in Miami also understand the disappointment when they realize that menu options aren't inclusive of alternative diets. Well, we're here to present solutions for your future catering needs because we know the needs of every guest are important!
Hors D'oeuvres
The three most important factors for successful hors d'oeuvres are that they are flavorful, handheld, and aesthetic. The purpose of these small bites is to stimulate the growing appetites of guests with a small burst of flavor and in anticipation of the main course. The convenience of a handheld snack allows guests to continue networking or socializing in between bites. While looks might not be "everything", we can assure you that a well-presented vegan hors d'oeuvre might even convince a carnivorous guest to try something new. We know a thing or two about eye-catching event hors d'oeuvres, visit our Instagram to see for yourself.
With the vegan options offered by us here at Bill Hansen Catering, we ensure that guests with special diets don't miss out on experiencing delicious cuisine. The main components you should seek to incorporate into your vegan hors d'oeuvre menu are flavorful vegetables and a hearty carb. Some examples of this are:
Loaded Avocado Quesadillas
Quinoa & Lentil "Walking Taco" Cones
Crispy Yuca Fries with Spicy Guava Dipping Sauce
Moroccan Vegetable Chili (served in a spoon with crispy tofu)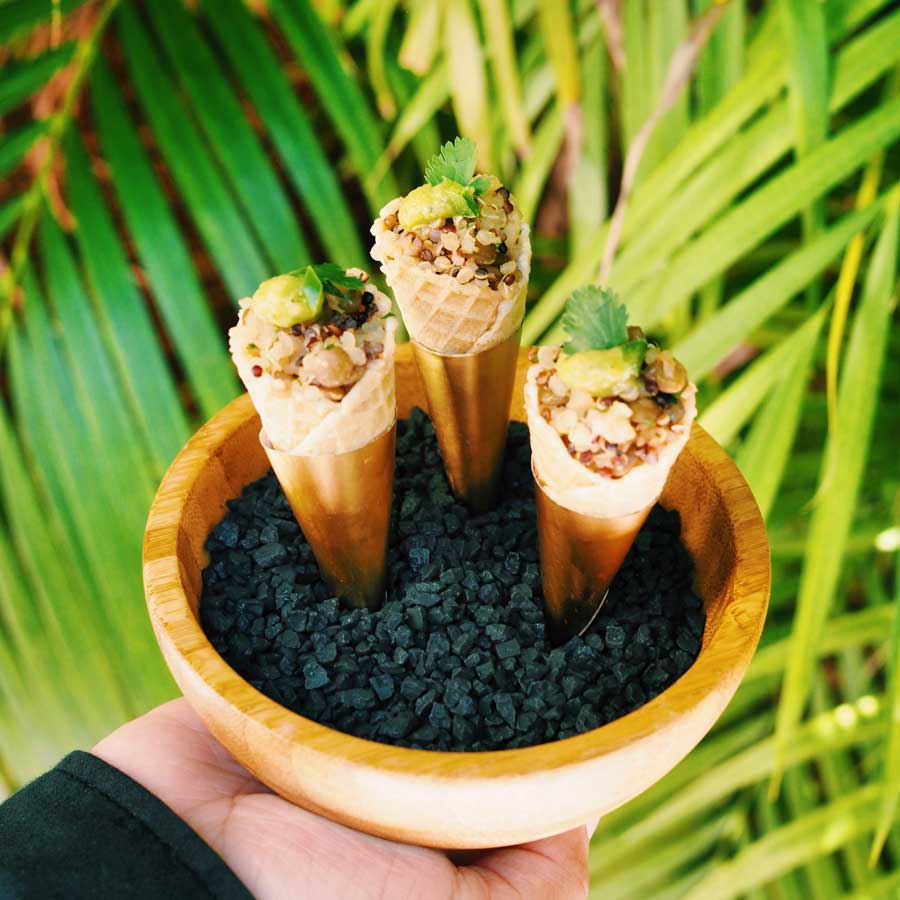 Salads
Often used as the only menu option for guests with special diets, the creative possibilities with a salad menu are usually overlooked. If our 40 years of experience catering in South Florida have taught us anything, it's that vegetables can be fun! Adding seasonal fruits or unique dressings are key features of a fun salad.
Below are some savory salads that should convince you to replace the classic caesar salad on your next menu.
Quinoa Kale Salad: a mix of quinoa and kale topped with red onions, cherry tomatoes, and pomegranate seeds tossed with pesto dressing.
Summer Salad: fresh spinach, shiitake mushrooms, mango, avocado, strawberries, candied walnuts dressed with a raspberry vinaigrette dressing
Crispy Sweet Potato Salad: mixed greens, red peppers, cucumbers, red onions, tomatoes, and avocado topped with sweet potato crisps.
Mosaic Fruit Plate: red and yellow tomatoes, watermelon, avocado, and cucumber cubes drizzled with balsamic vinaigrette garnished with fresh basil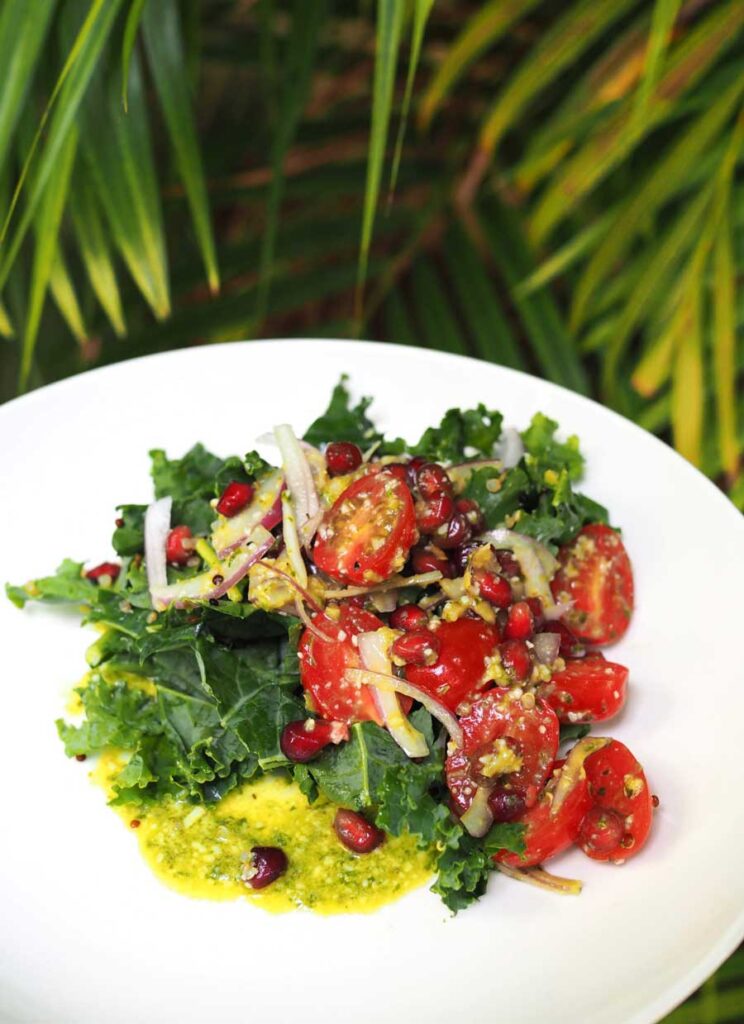 Entrees
After such show-stopping hors' d'oeuvres and salads, your vegan guests will be eagerly anticipating the main course of the evening. As the most filling meal on the menu, we've named our mouthwatering vegan entrees to specially reflect the size of the meal. For example:
Cauliflower Steaks
Grilled Portobello Mushroom Stack
Roasted Vegetable Tower
Dual Lentil Cakes with almond milk cilantro crema
Our goal is to share industry best practices to ensure that memorable food experiences are accessible to all guests, no matter their dietary preferences! We hope to have inspired you to include some of these treats at your next special event, or to have us do it for you!