Around the World With Bill Hansen Catering
One of our favorite aspects of working in Miami catering is the blend of cultures and ingredients that each client inspires us to incorporate into our menus. We enjoy seeing cultural foods be a part of momentous corporate and social events.
Whether you're an interested client of Bill Hansen catering's event planning services, or simply looking for dining options for your next event, we've gathered some of our favorite salads, hors d'oeuvres, entrees, and desserts from a few of our cultural menus.
Israel
Our Israeli-style cuisine will cause your guests to feel instantly transported to this country, bordering the eastern coastline of the Mediterranean Sea.
Salad: Israeli Couscous Salad with Smoked Paprika, Spinach, Tomato and Feta
Entree: Leg of Lamb with Pomegranate Mint Glaze
Dessert: Baklava
Jamaica
With event venues in Miami that bring a tropical paradise feeling to guests, it's only fitting that we provide cuisine originating from a tropical paradise in the Caribbean Islands.
Salad: Papaya and Jicama Salad with Miso-Mint Dressing
Appetizer: Curried Jumbo Lump Crab Cakes topped with a Mango, Mamey Salsa
Entree: Jerk Marinated Grouper, Sweet Potato Plantain Mash, and French Beans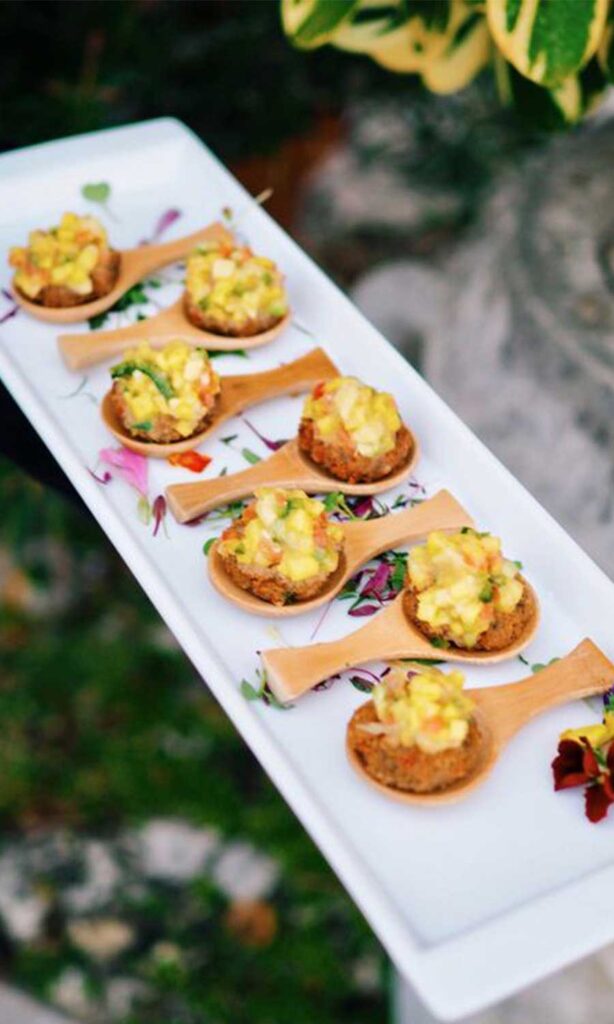 Mediterranean
We believe that even if your passport isn't stamped by a country in the Mediterranean, you shouldn't be deprived of their delicious cuisine.
Hors D'oeuvre: Lamb, chicken, and vegetable gyro
Entree: Grilled zucchini with fresh mint and crushed pistachios
Dessert: Honey pistachio roasted pears
Lebanon
Lebanon is a country recognized for its rich archaeological history, as well as cuisine rich in grains, seafood, and fruits.
Hors D'oeuvre: Paper thin pita
Salad: Lentil Salad with Red and Beluga Lentil, Cucumber Salad, Yogurt and Mint
Entree: Kibbeh of BBQ Lamb with Sliced Heirloom Tomatoes
Italy
While most people associate only pasta with Italian cuisine, we enjoy diversifying our menus with other delicacies and vegan options.
Hors D'oeuvre: Avocado and Tomato Bruschetta
Entree: Bisteca Cauliflower "Milanese" Saffron Risotto, topped with Herb Salad
Dessert: Vegan Cannoli with Pistachio Dust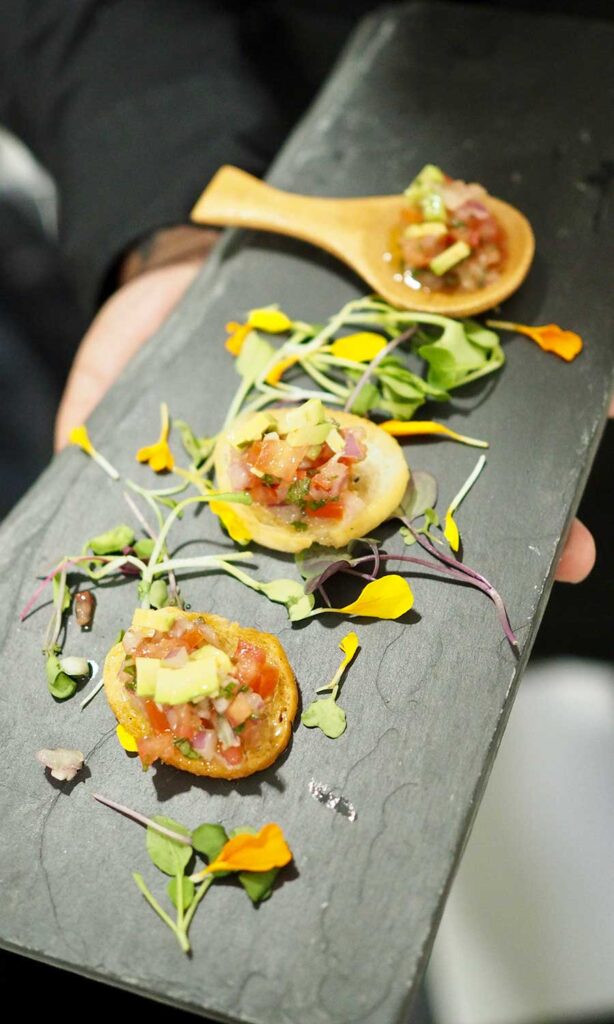 Cuba
As a company catering in South Florida, our menu would not be complete without representation of Cuban cuisine, which we also offer vegan options.
Hors D'oeuvre: Grilled Pineapple and Tomato Stack with Guava Vinaigrette and Smoked Butternut Squash Chicharrones
Entree: Mojo Vegan Pulled "Pork" Tostones
Dessert: Rice Pudding layered with Avocado, Orange Essence, and Toasted Pine Nuts
Culturally significant details are often incorporated in event decorations, venues, and music, so why not food? Bill Hansen Catering is proud to offer more cultural menus aside from the ones listed above. Contact us here with inquiries about how we can make your catering dreams come true.
Jamaican Jumbo Lump Crab Cakes photo by Bill Hansen Luxury Catering
Lentils with Yogurt and Pita photo by Edgar Castrejon on Unsplash
Avocado and Tomato Bruschetta photo by Bill Hansen Luxury Catering
Written by Emily Calderon